The battle at Chickamauga, Georgia took place September 19 & 20, 1863, resulting in the death of over 34,000 soldiers (Union and Confederate). It was second in causalities only to the battle at Gettysburg during the Civil War.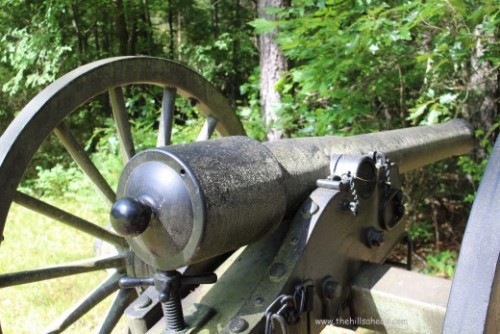 This area of woods and several small farms before the battle would become a National Military Park in 1890 by an act of the United States Congress. By preserving the event then that directly impacted so many soldiers and farm families, it continues to impact visitors a 150 years later as part of the Chickamagua and Chattanooga National Military Park.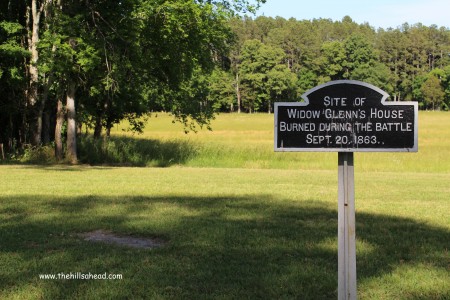 The Chickamauga Battlefield is located between Fort Olglethorpe, Georgia and Chickamauga, Georgia. There is a visitor's center close to the Fort Oglethorpe entrance to the park. The visitor's center is open from 8:30 to 5 daily and is a great place for information on the battle, the battlefield, the history, and to see the exhibits, which includes a gun collection, before touring the park.
All of the battlefield's areas are open from 6 a.m. until dark. Touring the park can be done by car, but a combination of driving (or biking) and walking allows you to see more of the park and the monuments.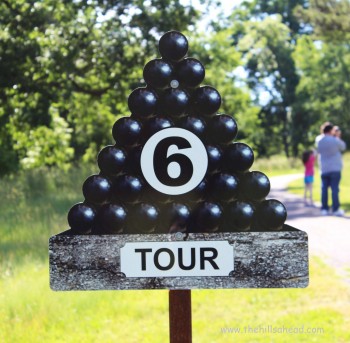 The tour marker signs around the park are in the shape of a pyramid of cannonballs similar to eight monuments to fallen military leaders from each side, four Union and four Confederate.
The tallest monument in the park is a tower that visitors can climb the stairs inside and view the battlefield from the top. The tower monument is to honor a Union brigade commander, Col. John T. Wilder.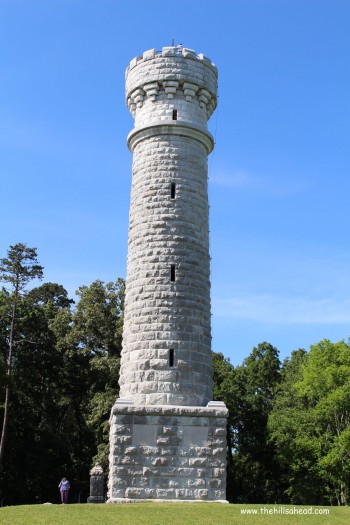 There are many monuments that honor various regiments and divisions from many states on both sides of the conflict.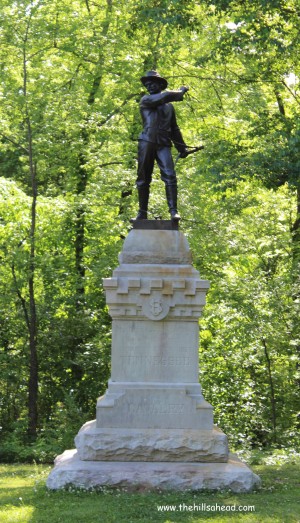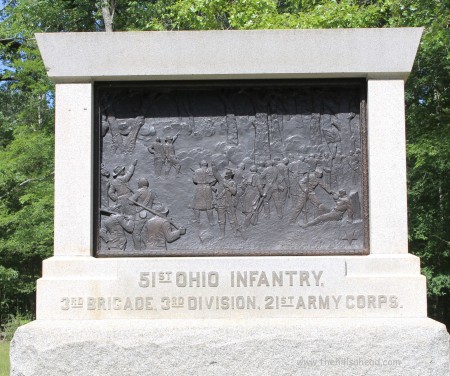 Unfortunately, there has been vandalism (theft mostly) in the past several years.  Some of the markers (brass, etc.) have been stolen, leaving some monuments marred.
My personal observation has been of a lot more monuments to union troops. Perhaps this is because the Union lost more soldiers or perhaps its just that I noticed more of the Union monuments.
If you go to visit, you should travel up Lookout Mountain to the rest of the park in Tennessee including Point Park.
What to Know Before You Go:
Admission is free.
It is part of the National Park Service and more information can be found on their website.
The park is fully open from 6 a.m. to dusk.
The visitor's center is open from 8:30 a.m. to 5:00 p.m.
There are bathrooms, maps, photographs, exhibits, and a gift shop in the visitor's center.
The only water source/fountains are at the visitor's center.
There are several hiking trails throughout the park.
There are also horseback riding trails in the park.  You must provide your own horses.  The parking and unloading/loading of horse trailers is restricted to one area.
Recreational activities (picnics, Frisbee, etc. ) are limited to one area of the park.  This is a military park preserving a battlefield, not a recreational national park.
Age/Interest Appeal:
Older children, teens,  and adults.  However, there is plenty of hiking and open areas that younger children can be active.
History, Civil War, Horseback Riding, Biking, Hiking, Descendants of participants
Physical Considerations:
Open to all.
Much can be seen by car.
Mild to Moderate activity can be had by walking and hiking, biking, or horseback riding.
How Long to Plan to Stay:
If just stopping at visitor's center and driving the 7 miles through the park, allow  an hour or so.
If stopping at visitor's center, driving through and walking to some of the monuments, allow  three hours or so.
If hiking one (or more) of the five trails, it will depend on which trail(s).  The shortest trail is 5 miles and the longest is 14 miles.
Near by Things to Do, Places to Go, Sights to See, and Where to Eat:
Gordon-Lee Mansion, Chickamauga, Georgia
Point Park Lookout Mountain Battlefield, on mountain in Lookout Mountain, TN
Incline Railway, Lookout Mountain/St. Elmo neighborhood Chattanooga, TN
Ruby Falls, Lookout Mountain in Tennessee
Rock City, Lookout Mountain, GA
Lookout Mountain Hangliding, on Lookout Mountain and Trenton, GA (landing strip and tandem experience).
Cloudland Canyon State Park on Lookout Mountain in Georgia
Mr. T's Pizza and Ice Cream, St. Elmo in Chattanooga, TN
Purple Daisy Picnic Cafe, St. Elmo in Chattanooga, TN
Mojo Burrito, St. Elmo in Chattanooga, TN
Cafe on the Corner, Lookout Mountain, TN
Cloudland Canyon Grill on Lookout Mountain in Georgia
Overall Experience:
:), :), 🙂
The entire family really enjoyed the experience.  It was a great home school trip.  I am sure that the eight year old had a different take away than the adults, but it was a very interesting experience.  It would be a great place to ride a bike or hike through.