Among the many things Chattanooga, Tennessee has to offer to visitors and locals is a great art. Not only is there a thriving scene for local artists, there is also a wonderful art collection at the Hunter Museum of American Art.
Sitting on a bluff above the Tennessee River,  the Edwardian-style mansion has housed the museum since the 1950's.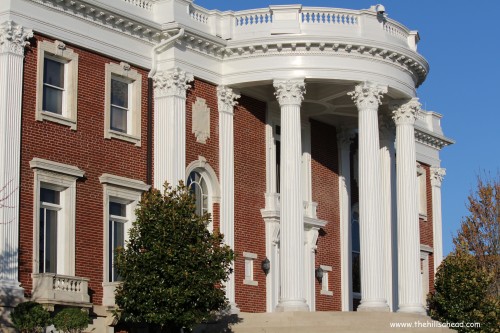 The museum was expanded in the 1970's with the connection of a modern addition that takes advantage of the beautiful views with lots of glass and outdoor spaces.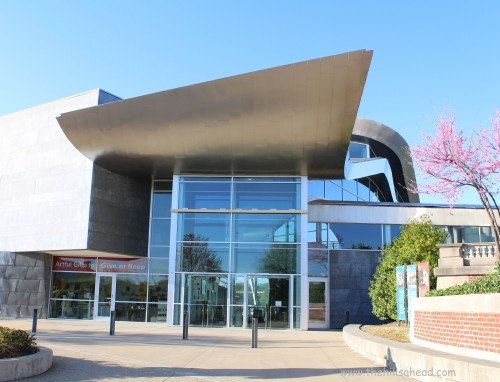 The entrance to the museum is through the modern part of the museum. However, there is several pieces to enjoy without going inside.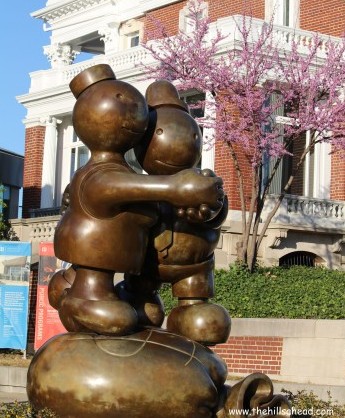 Inside you'll find a nice, comprehensive collection of permanent and special exhibits that cover a wide spectrum of American art including photography, paintings, glass, design art, and more.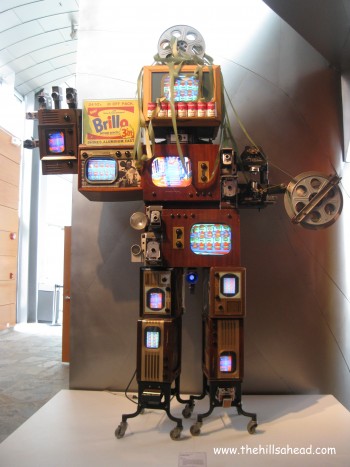 Although it is not really part of the museum, the glass bridge that directly connects the bluff  to downtown Chattanooga and the entrance to a walking bridge across the Tennessee River is an attraction into itself.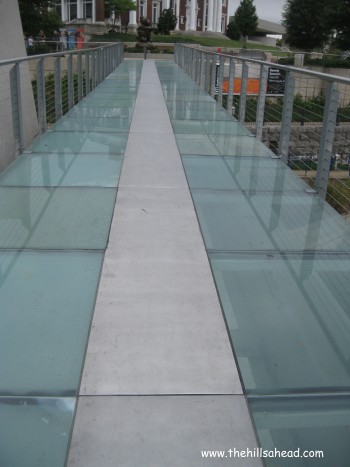 What to Know Before You Go:
The Hunter Museum of American Art is located at 10 Bluff View Ave.
Free parking is available in a lot next to the museum.
The museum opens most days at 10 a.m., except for Wed. and Sun. when it opens at noon.
The museum closes most days at 5 p.m., except for Thurs. when it closes at 8 p.m.
Admission is $15 for adults, $7.50 for children 3 – 17, and free for under the age of 3.
From Memorial Day to Labor Day 2015, active-duty military personnel and their families are admitted free.
They offer annual memberships.
They participate in reciprocity agreements with other museums, SERM and NARM.
There is free admission on second Sunday of every month.  This admission only gives you access to the permanent exhibits.
During lunch hours, there is a cafe inside the museum where you can purchase food.
They have a gift shop.  It is located near the entrance/exit.
They offer special programs and classes for all age groups, check their website for more information.
Age/Interest Appeal:
Art/Artists/History
While the exhibits may appeal to all ages, older children and adults will probably find touring the museum more appealing.  This is NOT a hands on museum; it is a hands off museum.
Physical Considerations:
There is some walking involved.  There are some benches in the lobby and a few others in the museum.
The modern part of the museum is very wheelchair accessible.
How Long to Plan to Spend:
You will probably allow between 1 and 2 hours.  Depending on your interest level and what temporary exhibits are showing, you may want to spend more time (or less).
Nearby Things to Do, Places to Go, Sights to See, and Where to Eat:
Walnut Street Bridge
River Gallery Sculpture Garden
Tennessee Aquarium
High Point Climbing and Fitness
Creative Discovery Museum
Bike Transit System, rentals
Tony's Pasta Shop and Trattoria
Back Inn Cafe
Rembrandt's Coffee House
Overall Experience:
🙂  🙂  🙂
We are members of the museum, so writing a review from a strictly visitor point of view is not especially easy for me.  Obviously, we like it. We enjoy just leisurely touring the exhibits. The permanent collection runs the gambit from Colonial to modern art.  The temporary exhibits also vary in their appeal.  My daughter has taken several classes over the years and enjoyed them.  The offer a variety of hands on classes for everyone from pre-K through adult; they also have a wide range of costs.