There are not many state parks in the Northwest corner of Georgia, but the one that is there has some terrific views.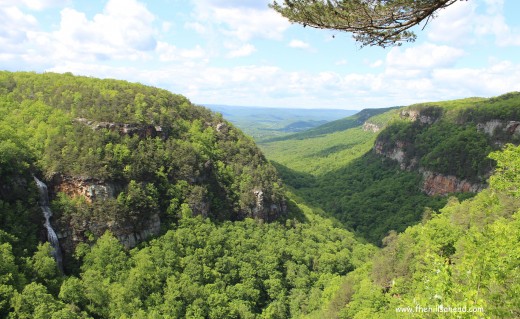 Cloudland Canyon State Park is located on Lookout Mountain in Dade County, Georgia about 10 minutes from the city of Trenton, GA and about 30 minutes from Chattanooga, TN.
It is one of a few canyons/gorges in Georgia's State Park system.
The canyon walls are lined with trees and the sandstone and shale rock that, along with limestone, make up much of the geology of the area.
Unless the area is in a drought, which it was a couple of years ago, Bear, Daniel, and Sitton Gulch creeks also feed a few waterfalls in the canyon. One waterfall can be seen from the overlook just off a parking area on the West Rim of the canyon.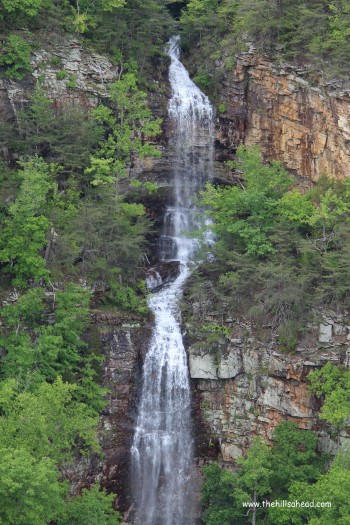 If you want to hike rather than just easily walk to/along the West Rim overlook, there are several hiking trails in the canyon area. The popular "Waterfall Trail" to the canyon floor is easily accessed and well-marked with a sign just off the edge of the parking area.
Although classified by some as a "medium" trail, the waterfall trail is considered strenuous for many as it a series of stairs with over 600 to the furthest falls. Not as bad as your going down, but then you have to go back up… It is one of the shorter trails at two miles total distance…but it is very vertical.
There are long trails, easy trails, hard trails, back country trails… Cloudland Canyon is great for a variety of hikers.
Not into hiking? There are other activities like disc golf (you can rent the equipment at the park), tennis, geocaching, and camping.
Camping at Cloudland Canyon is also great for a variety of needs/preferences. There is back country primitive, walk-in tent, car tent, camper, and RV campsites.
The park has 16 cottages/cabins that have heating/air conditioning, linens, kitchenware, kitchens, etc. for rent. The amenities, location and some cottages having wheelchair access make them a really nice option for multiple generations and those with special needs to stay in and enjoy the outdoors.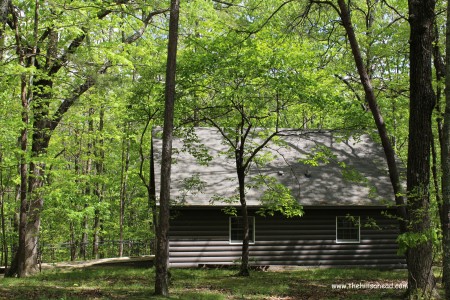 The newest addition to the park's is a Yurt village. The yurts have electricity, ceiling fans, heaters, beds, futons, water, fire ring, tables, and a nearby convenience station making them another good choice for mutligenerational travel. They are a cross between a cabin and a tent providing an alternative for those who like to RV or car camp with out having to tow anything or set up the tent. The yurts are very popular, so you'll need to make a reservation in advance.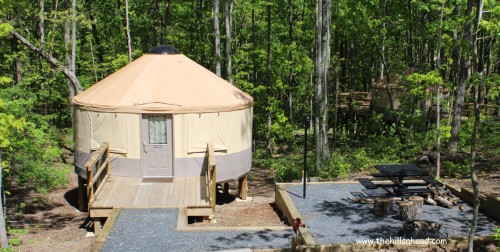 If you prefer to camp in a RV, the park offers about seventy campsites and a dump station. These campsites can also be used for car camping as well.
Car campers who prefer a little more isolation from others may opt to stay at one of the walk-in camping sites. The camping area is not far from a parking area making it a nice choice for car or hiking campers.
Hikers who want a true primitive, back country camping experience can find it in the back country campsites that are at least a half mile from the nearest parking area.
What to Know Before You Go:
Cloudland Canyon State Park is easily accessed from I-59 in Georgia off the Trenton exit.  Trenton is a good place to buy food, ice, etc. if you are camping.
Georgia State Parks all charge a parking fee.  Cloudland's fee is $5 for most passenger vehicles.   There are boxes located in the parking areas of the park to pay/ get your pass  if you arrive when the gate is not attended.
The park is open from 7 a.m. to 10 p.m.  They lock the gates in the park at 10.
Fall is a very popular time as people come to see the leaves change.
As always, if camping, DO NOT TAKE OUT OF STATE FIREWOOD WITH YOU.  You can purchase firewood both in the park and nearby.
Age/Interest Appeal:
All ages
Outdoors, nature, hiking, camping, disc golf, geocaching, relaxing, photography
Physical Considerations:
There are both relatively easy and very strenuous hikes.
There are accommodations available for those with limited mobility and climate control needs.
Wheelchair access to the overlook is possible…but not necessarily easy.
How Long to Plan to Stay:
Just walking to canyon overlook plan for 1 hour or less.
Limited hiking, 4 hours
One of the longer trails, all day.
Camping, 1 night min.
Staying in a Yurt, 2 nights min.
Staying in a cottage, 2 nights min.
Near by Things to Do, Places to Go, Sights to See, and Where to Eat:
Lookout Mountain Hangliding, on Lookout Mountain and Trenton, GA (landing strip and tandem experience).
See Rock City, on mountain in Lookout Mountain, GA
Ride Incline Railway either on mountain in Lookout Mountain, TN or at bottom in St. Elmo neighborhood of Chattanooga, TN
Point Park Lookout Mountain Battlefield, on mountain in Lookout Mountain, TN
Ruby Falls on Lookout Mountain in Tennessee
Chattanooga, TN
Chickamauga National Battlefield, Chickamauga/Fort Oglethorpe, GA
Cloudland Canyon Grill, dinner only, near park entrance
Geneva's Restaurant, breakfast, lunch and dinner, near park entrance
Overall Experience:
:), :), 🙂
We all love it here.  It is a great place to escape and relax.  It never seems overly crowded.  Once discovered, it is popular with visitors to the area and locals (including Chattanoogans) alike.