At the very top of the northern panhandle of West Virginia is the  small town of  Newell.  Nestled along the Ohio River,  Newell was formed to support a new factory for the china manufacturer, Homer Laughlin.
Although they made numerous types of dinnerware for household and commercial use since starting in the 1870's, Homer Laughlin is probably best known for their Fiesta dinnerware.
This bright, colorful, and durable dinnerware that was first manufactured in the 1930's and still is a very popular line.  According to the company's website, unlike early dinnerware, Fiesta Ware has been made with a lead-free glaze since being reintroduced in 1985.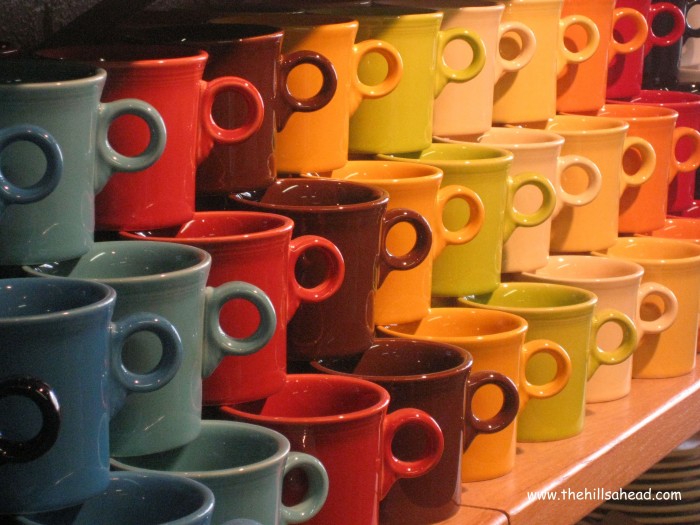 Not only is the lead-free dinnerware manufactured at the Newell factory, but you can actually take a tour of the factory and watch it being made. The tours are only offered during the week and a visitors need to call a couple of weeks in advance to make reservations.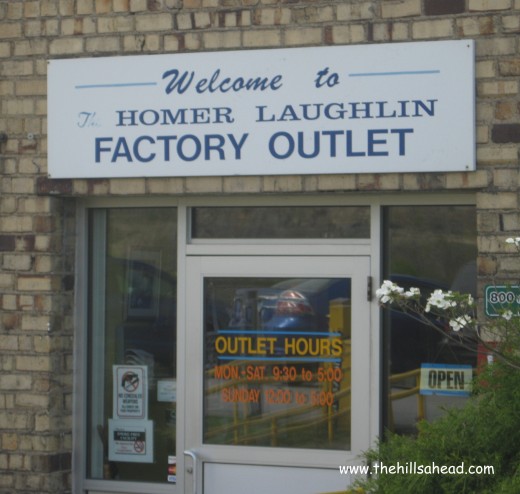 However, perhaps the most exciting thing about going to the factory in Newell for people (like me) who love Fiesta Ware is the room full of bins of seconds.  I was able to get some terrific deals with only very minor flaws that no one has ever noticed 🙂
If you are only interested in first quality items, there are plenty available in the factory store…including some discontinued colors when we were there.  They had several specials that were better prices than the department stores on their dinnerware and other licensed products.
What to know before you go:
The factory is located right along the Ohio River with parking available for the retail outlet and tours just in front of the outlet toward the river.
The retail outlet is open seven days a week, except for major holidays.
The hours are Monday – Saturday 9:30 – 5:00  and  Sunday 12:00 – 5:00.
The seconds room opens late on Mondays and Thursdays (11 a.m. ).
Factory tours are only offered twice daily Monday – Friday, 10:30 and 12:00.
Tours may not be given if there are extreme weather conditions.
Reservations for tours are required and should be made a couple of weeks in advance.  To make reservations, call 1-800-452-4662 (option #1).
 Age/Interest Appeal:
The factory tour and retail outlet has an appeal to adults more than children and teenagers.  Those interested in Fiesta Ware, Homer Laughlin History, and ceramic manufacturing will find it the most appealing.
How Much Time To Plan on Spending:
If you aren't taking the tour, 30 to 90 minutes.  It really depends how much time you want to spend searching through the seconds room and how much you want to buy.  I find it easy to spend 90 minutes to two hours.  Most other people spent under an hour.
If you are taking the tour, count on one to two hours for the tour and the outlet store.
Nearby Things To Do/Places To Go/Sights To See:
Mountaineer Casino, Racetrack, and Resort,  New Cumberland, WV
World's Largest Tea Pot, Chester, WV
East Liverpool, OH
Pittsburgh, PA
Wheeling, WV
Our Experience Overall:
 We had a great time.  Although it was my dream to go, Hub and early elementary-aged Daughter really enjoyed it also…especially shopping for seconds.
🙂 , 🙂 , 🙂