Lakes, hills, forests, and prairies can all be found in Custer State Park. Located in the south western part of South Dakota, Custer State Park is part of the Black Hills area.
The multiple ecosystems in the park host a large variety of wildlife. In fact, one of the park's "must-do" activities is to drive the Wildlife Loop Road where you can see many of the larger species including the park's famous bison (buffalo).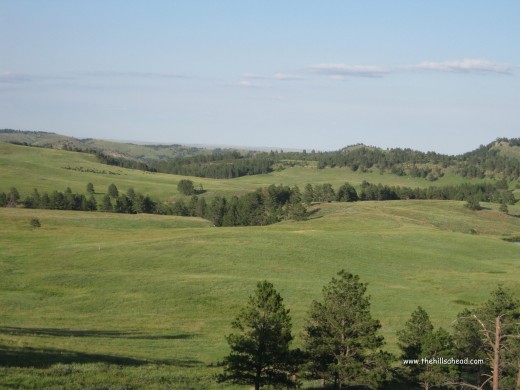 On your way to the Wildlife loop road, you may pass the Mount Coolidge Fire Tower. From the top, you can see the Badlands of South Dakota on a clear day.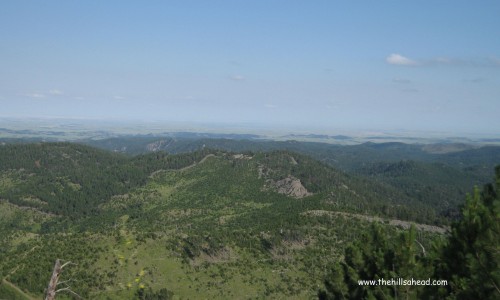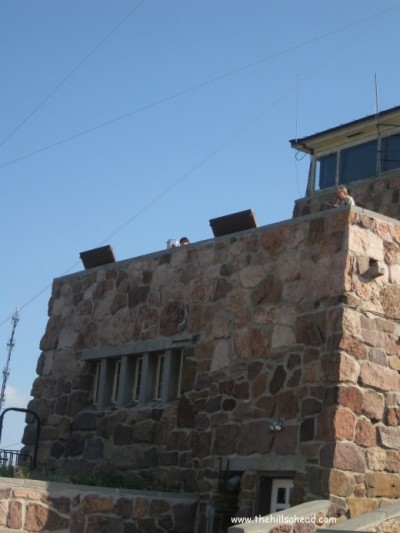 You can also see the remnants of devastating forest fires.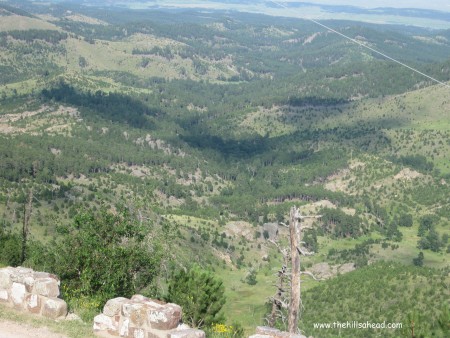 In order to get to the tower, you can't be in an really large vehicle or camper, it is accessed via a narrow, gravel road. Plus, you need to go between 9 a.m – 5 p.m. during the summer months.
Another scenic drive in the park is Needles Highway. Named for the granite spirals that are visible from the road, this winding drive takes about an hour to traverse the 14 miles.
Needles Highway passes Sylvan Lake.  This lake is just one of the lakes in the park, but is often called the "Crown Jewel" of the park.
There are three  narrow tunnels along this stretch of highway. There are also three tunnels on another  scenic drive route that is partially in the park, Iron Mountain Road.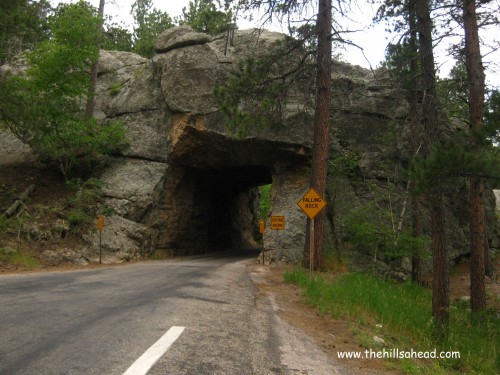 Iron Mountain Road connects Custer State Park to Mount Rushmore. As you enter a tunnel, you can see Mount Rushmore in the distance.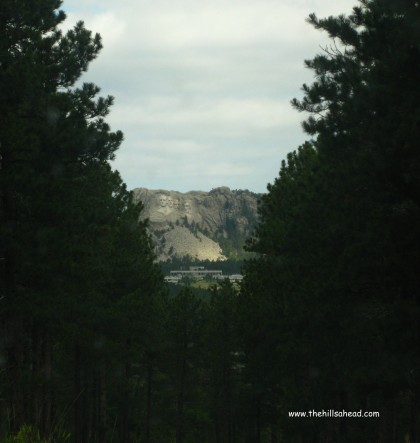 Some people stop and walk to the middle of the road to take pictures…but I was not that brave as traffic, while not heavy, was too frequent for my comfort.
Iron Mountain Road also has three "Pigtail Bridges."  These bridges are designed to allow you go drop/climb in elevation very quickly without the builders  having to damage as much of the landscape.  They are called "pigtails" because they look like the curly loops of a pig's tail.
Before you leave Custer State Park, you may want to try out some of their many activities including:
Panning for Gold (demonstrations)
Hiking
Biking
Horse Back Riding (through the resorts)
Chuck wagon dinner experience ( through the resorts)
Geocaching
Fishing
Catching a show at the Black Hills Playhouse
Rock Climbing
Swimming
Paddle Boating
Touring the historical Gordon Stockade and Badge Hole.
What to Know Before You Go:
You will need a license to visit the park. A 1 – 7 day license is $15/vehicle.  A year long license is $30/vehicle.
Although the park is open all year, summer is the most popular time.
Unless your a motorcyclist going to Sturgis activities, you may want to avoid visiting the first week of August.
The park has some very nice campgrounds.  It is a very fun/economical way to see the area.
The tunnels and switch backs on the scenic drives do not lend themselves to over-sized vehicles.  Do not plan if your driving a camper larger truck/SUV.
Ages/Interest Appeal:
All ages
Nature, wildlife, history, fishing, rock climbing, photography, geology
Physical Considerations:
Custer State Park has enough activities to make a visit as calm or adventurous as you desire.
There are things to do for those with physical limitations.
How Long to Plan to Spend:
A full day is needed to see most of the park.
A couple of days in/around the park will give you a better experience.
Near by Things to Do, Places to Go, Sights to See, and Where to Eat:
Resorts/Campgrounds in Custer
Custer, South Dakota
Crazy Horse Monumet
Mt. Rushmore
Wind Cave National Park
Jewel Cave National Monument
Mammoth Site, Hot Springs, SD
Rapid City, SD
Circle B Chuckwagon, Hill City, SD
All Star Grill, Hot Springs, SD
Purple Pie Place, Custer, SD
Baker's Bakery and Cafe, Custer, SD
Overall Experience:
:), :), 🙂
We love Custer State Park.