Pocahontas County, West Virginia is one of my favorite places to visit. It encapsulates much of what I love about my home state: beautiful scenery to enjoy; skiing, camping, fishing and many other outdoor activities to do; abundant wildlife to photograph; historic places to visit;  scientific exploration….yes, scientific exploration.
Pocahontas County is home to the National Radio Astronomy Observatory in Green Bank, West Virginia.  Every year, astronomers and other scientists, engineers, educators and students go to Green Bank to explore space from all over the country world.  While some may be more limited in their exploration to educational facilities, tours, lectures, and the science center, others go to use the telescopes to investigate asteroids, planets, and much, much more.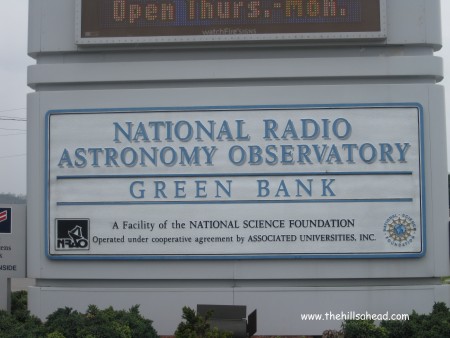 While Green Bank has multiple telescopes (some of which are no longer in active use), the newest is the largest. The Robert C. Byrd Green Bank Telescope, a.k.a. GBT, has a 100-meter diameter. This means it has a large area to collect data and is a very large structure.  In fact, it is the largest, movable and steerable telescope in the world.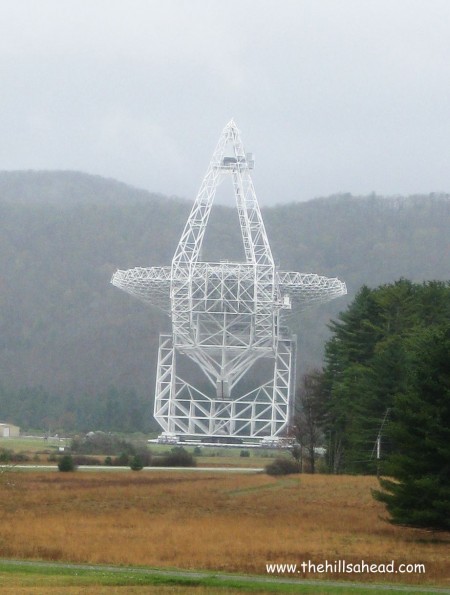 The other telescopes on the grounds seem very small by comparison.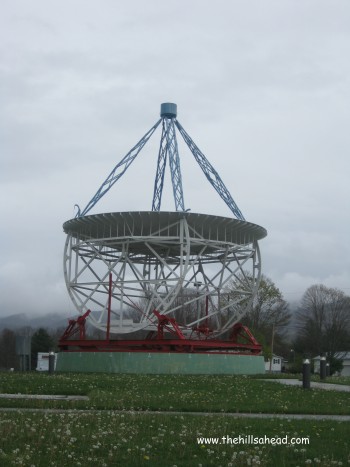 Although I have been to the Radio Observatory several times over the years, it has been a very rare event that I have ever gone to Green Bank when it was not a rainy day…even when I lived in West Virginia. Thus, I do not have very appealing, scenic pictures.
One thing that has changed over the years is the science center. It now has a hand-on educational area that is a great learning opportunity for the younger (and older) students. The area even includes a wonderful model of the GBT.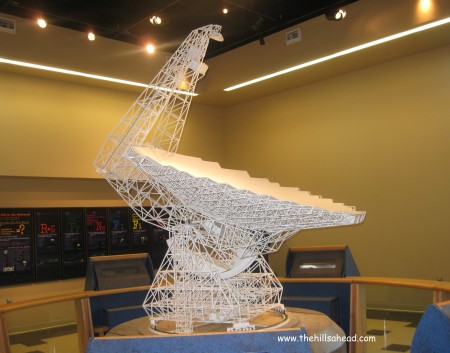 One thing that may be more noticeable is that the area is part of the National Radio Quiet Zone. The zone was established in the late 1950's to protect the telescopes observations from terrestrial radio wave interference. It has become more apparent with our heavier reliance on smart phones and cell phone service, which does not exist in Green Bank.
There has been concern in the past couple of years about whether or not the Green Bank Observatory would remain open after a proposal for NSF to eliminate funding, but partnerships like that with West Virginia University and the Breakthrough Listen Foundation reduce the threat. I am unsure if it has been eliminated, however.
The Breakthough Listen Foundation announced in July 2015 that Green Bank Telescope and the Parkes Observatory in Australia will be part of a 10-year project to search for extraterrestrial life. This is West Virginia.
What to Know Before You Go:
Green Bank Telescope is open year round.  It has daily hours from Memorial to Labor day, 8:30 a.m. to 7 p.m.. It has hours from Thursday through Monday the rest of the year.  From after Labor day until the end of October hours are still 8:30 a.m. to 7 p.m. but reduce to 10 a.m. to 6 p.m. starting in November to Memorial day weekend.
Admission Costs:  Free for  ages 6 and under; $3.50 for ages 7 to 12; $6 for ages 13 to 24; $3.00 for ages 65+
Digital cameras and cell phones are not permitted to be on near the telescopes.  You can purchase a disposable film camera in the gift shop (or take a film camera with you) if you want pictures closer to the telescopes.
To get close to the telescopes you will need to take the shuttle bus tour of the facilities.  Vehicles with spark plugs are not permitted near them.
There are rest rooms, a gift shop, a nice small cafe,  hands–on exhibits in the science/visitor center.  Tickets for the tour can be purchased in the center and it is where the tour begins.
Green Bank is in a valley, but it is a valley of the Allegheny Mountains.  Fall can be very cool and colorful.  Winters can be very cold and snowy.
Age/Interest Appeal:
All ages  but less so for infants, toddlers and pre-K  children. We had successful trips with my daughter as an infant through upper elementary.  She enjoyed riding the bus the best as a toddler and pre-K.
Science, astronomy, engineering, those looking to escape cell phones and other radio interference.
Physical Considerations:
Access to the science/visitor center is very easy.  Good for those with physical limitations.
The tour requires minimal walking and it is inside the center facility and to the shuttle.
How Much Time to Plan on Spending:
At least 1 1/2 hours.  More if you have children to explore the hands-on area in detail (or you want to yourself).
Nearby Things to Do/Places to Go/Sights to See
Snowshoe Ski Resort
Snowshoe Golf Course
Cass Railroad
Durbin and Greenbrier Valley Railroad
Droop Mountain Battlefield
Seneca State Forest
Pearl S. Buck Birthplace
Cranberry Glades
Bird watching, hiking, climbing,  photographing, skiing, golfing, fishing
Elk River Inn and Restaurant
Many nice restaurants in Snowshoe Resort
Overall Experience:
🙂  🙂  🙂   My entire family loves going to Green Bank Telescope.  We enjoy it every time…even in the rain.