The Cincinnati Zoo and Botanical Garden may be the second oldest zoo in the United States, but you can't tell its age by looking around.
The solar panel covered parking lot and newer entrance are certainly not indicative of a historical zoo and botanical garden.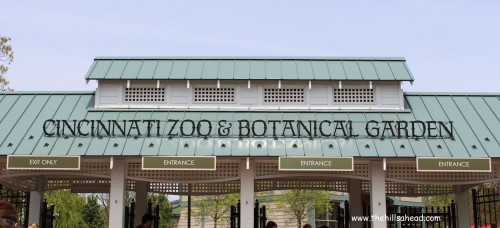 Inside, there are some signs of the historical significance of the zoo. The reptile house was built the same year as the zoo opened, 1875. Along with other structures like the elephant house, it is the reason the zoo was designated a National Historic Landmark.
The zoo also has a memorial to the now extinct Passenger Pigeon. The last known Passenger Pigeon lived at the zoo, where they tried unsuccessfully to find her a mate, until her death in 1914.
However, instead of dwelling on history, the 75-acre zoo and botanical garden seems to focus on its wide array of animals and plants.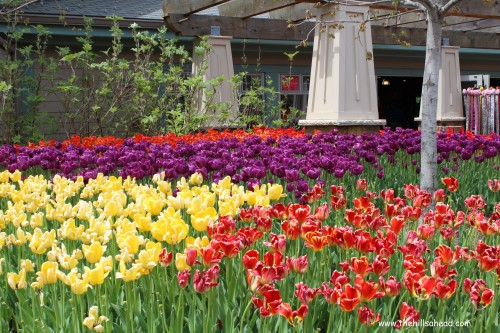 There are more than 500 breeds of animals at the zoo.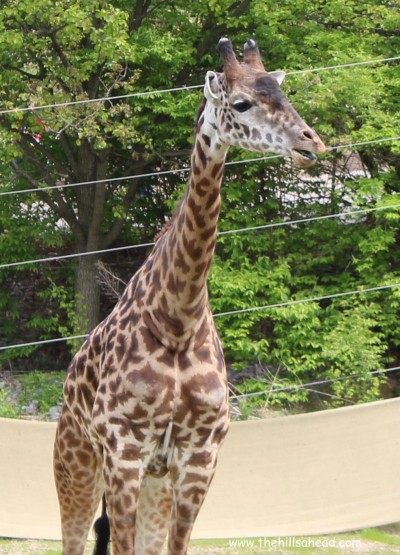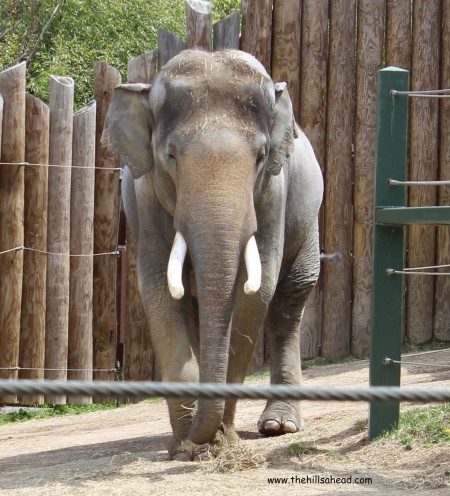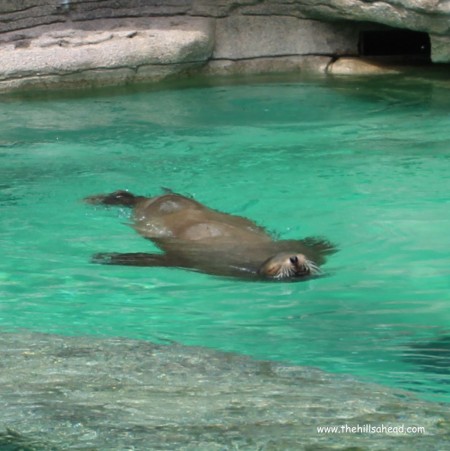 Most of the animals are contained in their specific display area, but there are several peacocks wandering in a much broader area.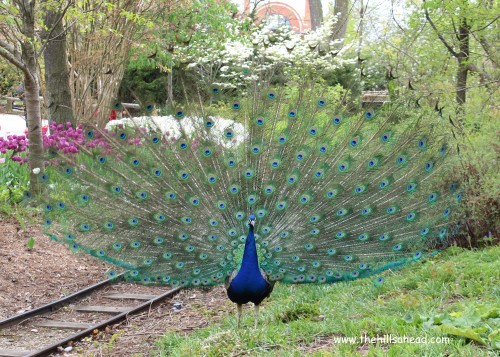 In addition to viewing the plants and animals, there are many additional activities available at the zoo…for an additional price.
These include a train ride (tracks are shown in the peacock photo), a 4-D theater, a carousel,  and a variety of animal encounters.
What to Know Before You Go:

The zoo is open everyday, but Christmas day.  Summer hours are 9:00 a.m. until 6:00 p.m.  The hours the rest of the year are 9:00 a.m. until 5:00 p.m.
Parking costs $8.
Admission prices start at $10 dollars for children/seniors and $15 for adults.
If your a member of another zoo participating in the Association of Zoos and Aquariums, you can get half off admission price.
You can take food and drink, just not alcohol, into the zoo.
Refillable cups are sold at concession stands and are good for an entire year.  It is the most economical way to buy drinks at the zoo, if you need more than just one and did not bring your own.
Strollers and wheelchairs are available for rent.
Least crowded times to go:  Monday – Thursday, early morning or later afternoon
Age/Interest Appeal:
All ages
Animals, Gardening, Flowers, History
Physical Considerations:
There is an elevator and an escalator for entry into the zoo.
The zoo has a significant amount of walking or pushing.  The zoo is not flat, but is has just one lower/upper level.  Courtesy transportation is available between a lower level point and an upper level point.  Plus, there are many benches available throughout the zoo.
There are many shaded areas throughout the zoo.
All of this makes for a nicely accessible zoo.
How Long to Plan to Spend:
A minimum of three hours.  Realistically, this could be a 5 + hour experience.
There seems to always be long lines for the train ride…to save time/money… I skip this.
Near by Things to Do, Places to Go, Sights to See, and Where to Eat:
Cincinnati Museum Center at Union Terminal
Contemporary Arts Center
Newport (KY) Aquarium
Cincinnati Reds,  Bengals, or Cyclones games
Coney Island
Kings Island

Hofbräuhaus
Overall Experience:
:), 🙂   – Only my daughter and I have been there…hubby has never been able to go….
We have always had a fantastic time…no matter what age